Over the last few days I've been having a play around after being inspired by the plethora of 'subway art' that's taking over blogland lately. That and this diagram that recently appeared in The Guardian Newspaper. . . . as anyone who reads here regularly knows I have a thing for books, especially classics. . and for some reason this visual of the most regularly hired library books really appealed to me.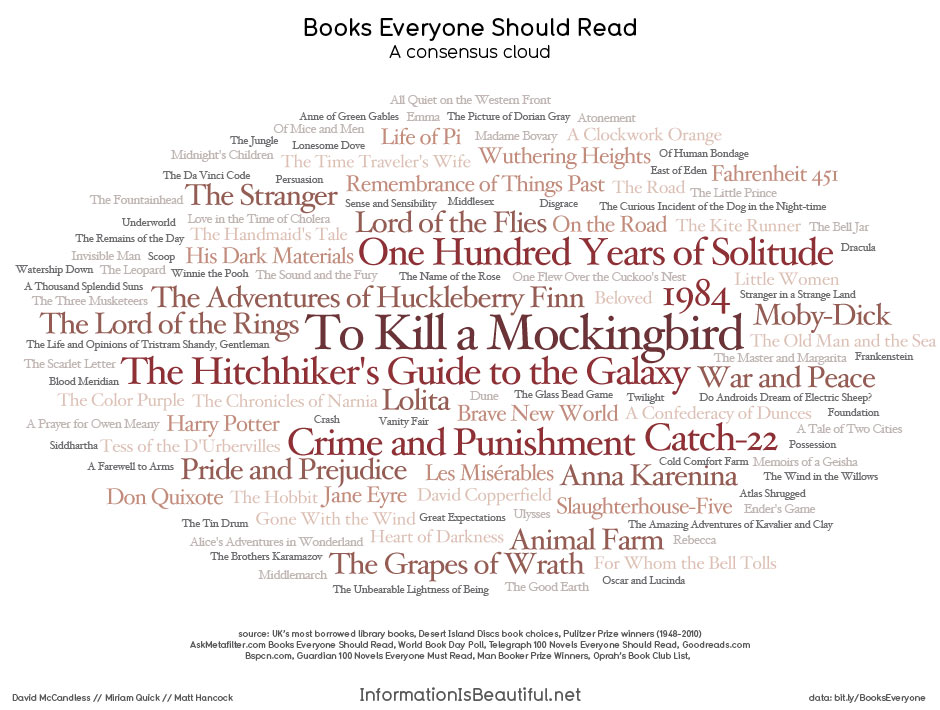 Image Source: http://www.guardian.co.uk/news/datablog/2011/mar/14/information-beautiful-books-read-100#zoomed-picture. Click to see full size.
So with inspiration and this great tutorial I eventually came up with. . .
Click for full size quality image. It reflects my personal taste - books that are for the most part beloved to me in some way, even though some of them I haven't even read! They've all had a profound impact on the way I think about life and everything in it. Next step. . . find a frame and get a print done so I can put it somewhere!! We'll see how long it takes me to get around to it hehe.
Terms of Use: I'm happy for others to use this print for personal use, however please respect my work (however trivial). This 'Beloved Books' Subway Art design is not to be sold or used commercially in any respect, except for by myself.
That's all for now,
*Sarah*